APPLE: New iPad 3 is here with 264PPI Retina Display, A5X Chip, iSight camera
Share
It's official, the new iPad device (which no one has actually referred to as 'the iPad 3' quite yet) is here and it comes with a whole host of new and exciting features.
Here's a quick and dirty rundown of the specs, keep checking back for more details and our take on the news throughout the night:
260 PPI Retina Display
A super sharp and detailed display is coming to the new iPad and its 2048 x 1536 pixel resolution screen, which the Apple team were keen to point out is 1 million more pixels than an HD TV. Wowsers.
As there are 264 pixels per inch, it's called a Retina Display.
The Apple rep said:
"Until you see it you can't understand how amazing it is."
Well, we can't wait to see it.
A5X Quad-Core Chip
This new chip will be a "graphics powerhouse" and is allegedly the best that's ever been added to a mobile device.
iSight Camera
An iSight camera on the front with a whole host of features, such as auto-exposure, auto-focus, auto-face detection, great edge-to-edge detail and AF-lock.
A new rear camera will run at 5MP and it's packing a backside illuminated sensor, 5 element lens and a hybrid IR filter too.
There's also HD video recording in 1080 resolution to boot.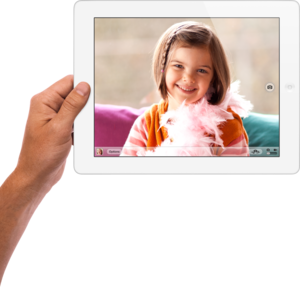 Voice Dictation
Not to be mistaken for Siri, there's a new simple voice dictation tool inside your new iPad. There's a new key at the bottom of the keyboard when it pops up on screen, just tap that and your clever new iPad will write out everything you've been saying. For now it'll be supporting English, French, German and soon Japanese with the latest iOS update.
Other Stuff
The US prices are $499, $599 and $699 for 16GB, 32Gb and 64GB and pre-orders start today for those in the United States, Canada, United Kingdom (yay!), France, Germany, Switzerland, Japan, Hong Kong, Singapore and Austria. So far anyway.
The new device will still maintain the current 10 hour battery life of the iPad 2, with 9 hours on 4G, as it's built to act as a 4G hotspot.
It's 9.4mm thick and weighs 1.4 pounds.
We'll keep updating this story, so check back for more news.
For latest tech stories go to TechDigest.tv