EDF Energy adds Samsung Galaxy tablets for improved London Eye experience
Share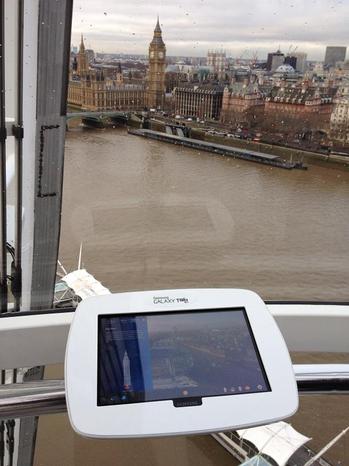 No more arguing with friends and relatives about which of London's various landmarks you can vaguely make out in the distance. Samsung has announced a partnership with the EDF Energy London Eye to put several of its Galaxy Tab 10.1 touch screen tablets inside each of the London Eye capsules.
Officially unveiled at a champagne breakfast this morning (don't worry we didn't partake), the tablets provide interactive information about 44 London landmarks as well as 360 degree maps of London in two modes – in day and night setting (the night setting looks particularly cool).
In addition, there are bird's eyes views of some of the key landmarks and a look inside some of the structures. Information about the landmarks is available in several different languages for tourists visiting London.
The decision to install web tablets inside the London Eye came after extensive consumer research into how the London Eye could offer better value for money.
Certainly the touch screen tablets are a nice interactive addition without detracting too much from actually taking in the views while the 360 degree maps and information have been nicely put together by LMC Design and Henry Stuart Photography.
You can follow the London Eye on Twitter here.
For latest tech stories go to TechDigest.tv