REVIEW: Sony Bravia KDL-60LX903 3D TV
Share
Name: Bravia KDL-60LX903 (Sony)
Type: 60″ LCD LED Edgelit 3D TV
Specs: Click here for full specs
Price: £4,449 direct from Sony
Whether you buy into it or not, 3D is the future of TV viewing. Each of the major electronics manufacturers, be they Samsung, Panasonic, LG, Sony or other are investing heavily in the tech. And with all the major Hollywood movie studios buying into producing 3D content and broadcasters such as Sky and Virgin now offering modest 3D channels, there's no denying we're on the cusp of a home entertainment revolution. It doesn't come cheap, but if you've got a spare £4,500 lying about, Sony's Bravia KDL-60LX903 3D TV is one of the best with which to experience this latest high tech trend.
Measuring up at 60 inches across with dimensions of 144.0 x 93.8 x 38.0 cm including its stand, the KDL-60LX903 is a mammoth set that will dominate a living room and rival a trip to the pictures in terms of cinematic scale. 4 HDMI ports (2 side mounted and 2 rear), composite, component, Optical, scart and USB ports are among it's many connections. USB file support here wins out over the included DLNA networking, supporting a greater number of formats including AVCHD, DivX, Xvid, .mkv, JPEG, WAV and MP3 files.
Though much has been made of the "Monolithic" design of Sony's signature range, in reality it's just another black-bezel-packing, though admittedly sleek, flatscreen LCD. It's slim and glossy, but there's not much more to say than that about the design, barring a silver glowing Sony motif on the lower edge.
What it does have in abundance however is features. As you'd imagine from a flagship set, Sony have squeezed everything that they can into the KDL-60LX903, from web connected widgets to motion processing tech. But first we'll look at that headline feature; the TV's 3D abilities.
As the set uses active rather than passive 3D technologies, you'll have to wear a pair of powered active shutter glasses to enjoy 3D content on the KDL-60LX903. They sync up with the TV's built in 3D emitter at the push of a button, and are light and comfortable enough to wear for prolonged periods of time. However, only two pairs of the £100 specs are included out of the box, which seems rather stingy given the £4,500 price tag. Bigger families will either have to cough up for a few more pairs or take it in turns, which considering the relatively small amount of time you'll spend viewing 3D content as opposed to 2D TV on the set, perhaps isn't so painful a proposition. The glasses are bespoke too; as it stands you wont be able to use any other manufacturer's specs with the set.
3D pictures are up there with the best we've seen from rival brands. Though the slightly tinted glasses do result in muted brightness levels, there was little crosstalk and only minimal ghosting across the fairly wide variety of content we watched, be that 3D Blu-ray or Sky 3D. The Sky 3D broadcast of Monsters VS Aliens was colourful with a strong sense of depth as was BUGS!3D which makes for a very nice showcase of the subtle depth of field tricks that can be applied to 3D broadcasts and creepy crawly antenna alike. 3D Blu-ray playback of Cloudy With A Chance of Meatballs likewise handled movement in 3D well, though we did notice a slight flicker when lots of meat-based foodstuffs jumped from the screen at once. All in, it was an impressive performance that made us long for a day when more content would be available in 3D.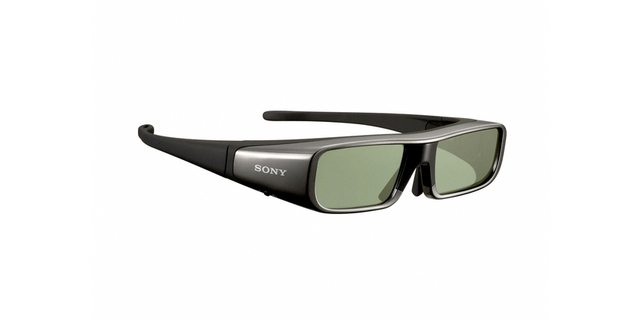 The KDL-60LX903's solid 3D performance is obviously in a large part bolstered by the quality of the set's panel, which is perhaps even more impressive in 2D. It manages superb black levels, despite LCD sets notoriously being less adept at this than their plasma counterparts. The edge-lit LED helps achieve this, though we did notice that this led to some unnatural light spillages in scenes from the Predators Blu-ray we tested when darkened corners and bright light sources were at distant ends of the panel. It was a minor and rare complaint, and when weighed against the sharpness of the HD image and superb colour spectrum, including an excellent grey-scale range, it was more than bearable. It's also worth noting that the screen's out-of-the-box default picture settings were far easier on the eye than the usually garish show-room set up most sets flaunt upon switching on, meaning you'll only have to fine-tune rather than overhaul settings when you initially fire it up.
Despite the obvious attraction of having a quality 60 inch 1080p screen in your living room, the KDL-60LX903 is full of image boosting features that, when used in moderation, can improve the picture measurably. The BRAVIA ENGINE 3 remains one of the most detailed processing engines and did a good job of smoothing out standard def broadcasts over the large screen. There was still some noise and artefacting when watching shows from the built in Freeview HD tuner, but considering the size the low-res shows were being blown up to, it did a better job than other humongous screens we've tested before. The MotionFlow 200Hz PRO is a more mixed bag; on the more subtle settings it comfortably reduces blur effects in high speed scenes, but can lead to strange floaty movements if cranked up to the more severe settings. Apply with caution.
As with many flatscreen TVs, the KDL-60LX903 suffers from weak speakers. The sheer space between the two 10W speakers either side of the screen gives very good stereo separation. However , there's very little bass or definition between mids and trebles. Tweak the mixer too high on any setting , particularly the bass, and all you'll cause is rattling sounds from the casing itself rather than a sonic improvement. Of course, if you can afford a TV this expensive you've likely got a dedicated sound system anyway, but at this price range the sound quality just isn't acceptable.
With built-in Wi-Fi or optional Ethernet cable, the TV opens up to a wealth of web connected options, many of them very good indeed. From sports courtesy of Eurosport and FIFA to catch-up TV via Demand Five or movie rentals from LOVEFiLM, if your web connection is up to scratch these portals will provide you with hours of quality content. The YouTube app in particular should be commended, managing to take extremely low quality images and polish them up to a respectable level even when blown up to 60 inches. There is also a selection of widgets, including news and weather feeds, as well as Facebook and Flickr access. They offer basic functionality and overlay onto the screen sensibly, though any that require extensive text entry can be a bit fiddly to use with the remote control.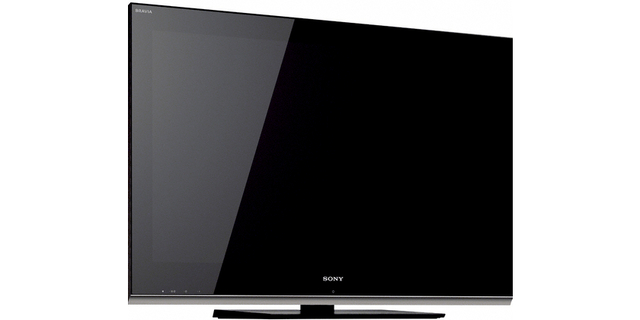 To be fair, the remote control isn't too bad. There's a dedicated button for accessing the 3D set-up options, as well as one for quick access to internet features and pre-set scene selection modes. The Xross Media Bar works well as a menu-layout system, with a four-way joypad and central clicking button for input confirmation. The directional buttons sit a little too closely to another ring of buttons however, which can lead to unintentional button presses, and it could be argued that the whole remote is just a little too long. Still, the HDMI-CEC control at least means you'll be able to control all CEC compatible devices from the one remote, which is a nice touch.
The Intelligent Presence Sensor is also a cool, if excessive feature. But hey, you're spending four and a half grand on this thing, lets live a little! It will control brightness and contrast levels depending on ambient lighting, and warn you if you're sitting too near to the screen. Most interestingly, and arguably creepily, it can also recognise which family member is sitting in front of the screen, and recommend shows based on their viewing habits accordingly. It's not intrusive, but it's unlikely you'll find much need for it.
It's not without its faults, but there's an undeniably luxurious feel to the KDL-60LX903. It's so feature rich and provides such a cinematic movie watching experience that you may never go to your local Odeon again. 3D performance is very good, and while the speakers are a let down, the many top-notch web connected apps keep its final score high.
4/5
For latest tech stories go to TechDigest.tv