REVIEW – Sony DR-GA500 7.1 gaming headset
Share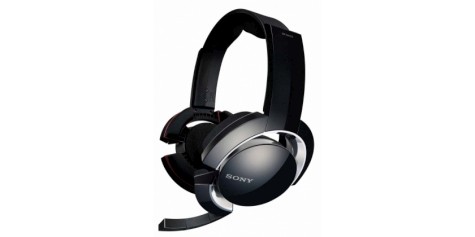 Name: DR-GA500 (Sony)
Type: 7.1 surround sound gaming headset
Specs: (Click here for full specs)
Price: £139 direct from Sony
Sony enter the crowded PC gaming headset market with their 7.1 surround DR-G500's. With the Sennheiser and Astro brands setting the benchmark with their PC350 and A40 headsets respectively, how do Sony's similarly priced units fare?
Depending on your fashion preferences you're either going to love or hate the DR-G500's. Chunky and angular with a triple-enfolding design, the cans look a bit like a Transformer midway through an…erm…transformation. Personally I think they look great even if some of my office-mates disagree, with a slight silver trim breaking up the black gloss plastic finish in places and a fold away mic on the left side. The design leaves plenty of room for air to get to your ears, preventing the dreaded "Sweaty-Ear Syndrome" some headsets cause, with an in-line volume control and mic-mute about 12 inches down the 1.5m cord. The cans are also nice and light, hugging the head well and nicely padded, though I'd take extra special care of them, as the plastic build seemed quite fragile. I don't think it'd take much to snap the thin headband.
The DR-G500's ship with a black external signal processing box, roughly the size of two DVD cases stacked on top of each other. A little chunk is knocked off the corner, and it lights up when on and powered by the supplied plug. On the back is a master volume dial, and connections for 7.1 analogue audio, as well as USB input. The front has switches for input control (2.1, 5.1, 7.1 and USB), effects (Surround, FPS and off) and a compression on/off switch.
The box pumps your gaming session through a Dolby Pro Logic IIx decoder to give a pseudo-7.1 surround sound effect when gaming. In terms of clarity, the headset has very well defined (if a little harsh) mid and high tones, but felt a little weak on bass. Sony put the 40mm drivers to good use, with a frequency response range of 14 – 22,000 Hz, but the headset isn't without its problems.
(Scroll down for more images)
Firstly, with no effects applied to the audio signal, sound can be a little clinical, particularly so when not using compression, and most noticeable when listening to music. Switch over to Surround settings and, while warmth is applied to the audio, there's no true discernible sense of 7.1 movement in the headset when gaming. More annoyingly for a headset primarily aimed at shooting fans, the FPS setting had no real differences to note against the Surround setting, appearing to just ramp up the reverb a little. We played through a good few sessions of Borderlands with the headset on across all combinations of effects and compression settings, but found that the sound was just a little too prickly overall, and not terribly great at giving a 3D spatial sound effect when the settings were applied.
The fold away microphone is a nice touch, and works well. There was no noticeable distortion when using the omni-directional mic, and it did a good job of avoiding picking up ambient noise in the room. While the mic-mute button works fine on the in-line controls, there's been a bit of an oversight when it comes to the cord-mounted volume dial. You can lower the volume, but never kill it completely from the in-line control, which means you're going to have to use software controls or dig around behind the processing box to mute the sound , which could become a pain if you're desk is as cluttered as mine.
Though niftily designed, and a definite sonic improvement over low and mid priced headsets, Sony's DR-GA500s just don't do enough to justify their £139 price tag. Your frag sessions may sound crisp, but just don't expect this headset to give you any particular edge over the competition.
3/5
Click here to buy the Sony DR-GA500 gaming headset for £139
For latest tech stories go to TechDigest.tv