World of Warcraft Cataclysm Collector's Edition revealed
Share
Blizzard have just revealed the Collector's Edition set for their upcoming Cataclysm expansion to World of Warcraft. Available only from retail stores, the press release states that the boxset will feature:
– Art of the Cataclysm art book, featuring 176 pages of never-before-seen images from the archives of the Blizzard Entertainment cinematics department and the World of Warcraft development team, as well as progressive visuals from multiple stages of development.
– Exclusive in-game pet: he may not be a breaker of worlds just yet, but Lil' Deathwing will still proudly accompany heroes on their struggle to save Azeroth from his much, much larger counterpart.
– Behind-the-scenes DVD with over an hour of developer interviews and commentaries, as well as a special Warcraft® retrospective examining the rich gaming history of the Warcraft universe.
– Soundtrack featuring 10 epic new tracks from Cataclysm, including exclusive bonus tracks.
– Special-edition mouse pad depicting Deathwing menacing the ravaged continents of Azeroth.
– World of Warcraft Trading Card Game cards, including a 60-card starter deck from the Wrathgate series, two extended-art cards, and two Collector's Edition-exclusive hero cards, marking the first appearance of goblin and worgen heroes in the TCG.
A pretty comprehensive package then by the looks of things, which it had better be if it is to sate the appetite of the rabid hordes of WoW players. Still no word however on a release date, though the 2010 launch is apparently still on track.
Click the image below for an expanded look at what's set for inclusion.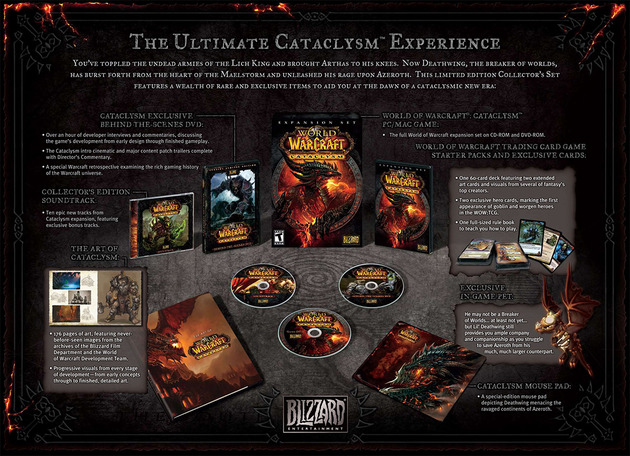 For latest tech stories go to TechDigest.tv