Is this the iPhone 4G? Maybe, just maybe… – Gallery
Share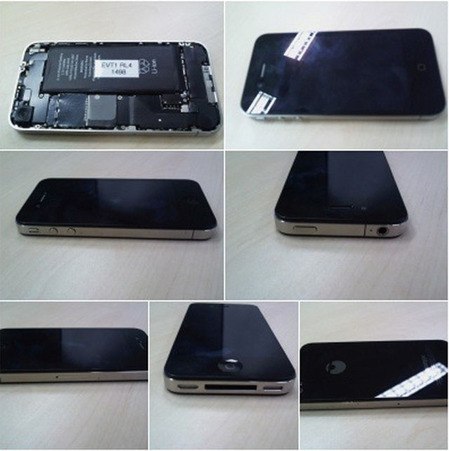 Though there have been spy shots and Mr Blurrycam fakes of the next iPhone model knocking about online for months now, Engadget have uncovered what is seemingly the first legitimate shots of the iPhone 4G.
And believe it or not, if these new shots are the real deal, we've ALL seen the iPhone 4G already some time ago.
But we're jumping ahead of ourselves here. First of all this latest leak. Engadget received shots of the Apple handset from a reader who stumbled upon it in an iPhone 3G case in a San Jose bar over the weekend. With a slightly busier chassis than previous models, with circular buttons and straight rather than curved edges, the source booted up the iPhone which revealed a brand spanking new OS soon before shutting down, never to come back on again.
Closer inspection also revealed an as-expected front facing camera, 80GB of storage space, a higher resolution screen and a microSIM card slot. Also, the back of the handset appeared to have a glass casing, which would help to circumvent the poor signal issues some iPhone users complain about.
So what makes this leak any more convincing than previous ones? Well according to Engadget, this same model was spotted in the corner of another previous leak. It was nestled alongside an iPad that time around, in spy shots believed to be from Apple's test labs, the images from which did indeed turn out to be the iPad. You can see for yourself in the gallery below. It's the image with the red arrows.
This then looks very much like the real deal folks. The extra buttons and joins in the design kind of go against Apple's usually minimalist design, but at this stage any iPhone 4G leak is likely a test build anyway. And we can question how it ended up loose in a bar-room floor until the cows come home, but, as it stands, this is as close as we've came to spotting the next generation of the Jesus phone.
Check out the gallery below for the leaked images.
Via: Engadget
For latest tech stories go to TechDigest.tv