IKON digital radio with colour touch screen/iPod dock
Share
Here's a gadget that claims to be the first multi-format digital radio with built in colour touch screen.
Dubbed the REVO Ikon it certainly seems to offer plenty of facilities including DAB, DAB+ and internet radio – as well as conventional FM radio with RDS. Where available, colour station logos, station descriptions, track and artist information, news headlines etc. are displayed on the device's 3.5inch colour screen.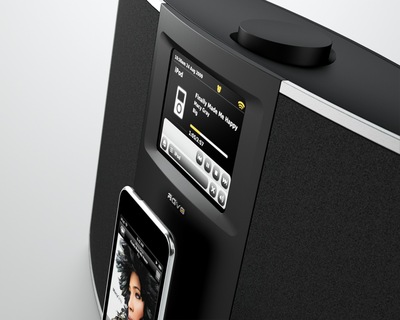 IKON will wirelessly stream digital music files from any 'connected' PC or Apple Mac, displaying full colour album artwork and track information where available. It is also one of only a handful of digital radios that doubles as an iPod or iPhone docking station/sound system.
In addition to terrestrial and internet radio capabilities, IKON will also provide access to online music service Last.fm. The IKON includes a free 30 day Last.fm trial subscription, thereafter a £3.00 per month subscription charge applies.
Officially launched at IFA next month, IKON has a recommended price £279.95 and will go on sale worldwide in October 2009. A pre-order service is available from www.revo.co.uk, www.hughesdirect.co.uk, www.advancedmp3players.co.uk, www.petertyson.co.uk and www.superfi.co.uk

For latest tech stories go to TechDigest.tv