Gadget Show Live 2009 – DAB and Wi-Fi radio
Share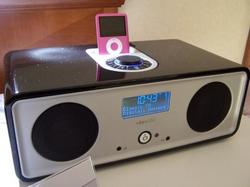 Ok, so a couple of months ago I was muttering about the possible death of consumer electronics citing companies going under, gadgets getting commodotised and innovation being lavished on apps and widgets rather than hardware. Well after today I am man enough to take at least some of it back. CES might have been a bit of damp squib but The Gadget Show really is amazing with hordes of gizmo-crazed punters swarming round some pretty impressive stands. Doffed cap to the show's organisers.
Chris has already run through the main news stories, so here are a few snippets I picked up from the show's floor.
.
Away from the big players – Panasonic, Sony, Ninetndo etc the big story appears to be around audio. The trick for old school Brit brands like Vita (part of Ruark speakers) and Monitor Audio has been to produce their own Wi-fi/DAB/FM radios. There's a big market for this stuff and as the hardware is very UK focussed these devices aren't at the top of the agenda in Tokyo, Seoul and Silicon Valley.
I got my first view of Monrior Audio's Airstream 10 internet radio/DAB/FM combi in the flesh and was rather taken with it. It sports a really cute design, sounds great for a unit of its size, is simple to use and has what the maker calls an Orientation flip, which in the real world means you can site it in a number of ways. It goes on sale in June for £220 in a very fetching black and brown finish. The word is that whjte and silver versions may follow soon.
The team at one of Monitor Audio's rivals, Vita Audio has also been busy. Its R1DAB/FM radio was very popular in these parts for its smart boxy deisgn innovative Rotodial control system and quality sound. Apparently a new version is slated for later in 2009. Before that in June Vita will deliver an upgraded version of its R2 which it calls the R2i. It will feature a bigger display and an enhanced cabinet unit, but the big change is the inclusion of a iPod/iPhone dock. It is likely to sell for around £220.
One audio manufacturer who is focussing on software rather than hardware for 2009 is Sonos. The multi-room pioneer recently delievered a firmware update for its sytem and is now looking to add to its suite of content partners. At the moment it works with Last FM, Napster and French streaming company Deezer. How long will it be before it adds Spotify to that list? Well Sonos is saying nothing at the moment
For latest tech stories go to TechDigest.tv