Snow photography – send us your snaps
Share
Tech Digest is officially working from home today, what with the beautiful snowy treat in the UK this morning, so I took the time out before 9.30 to have a snowball fight with my girlfriend in the park. We pelted a few school kids for good measure. Take that one youth of today!
Anyway, once we were done, we got the cameras out and managed to take a good bunch of rubbish gloomy shots. Why, because we were too busy revelling in our defeat of the local under 10s that we forgot the number one rule of snow photography – jack up the exposure.
So, if you're going to take a few snaps out there before it all turns to evil brown mush, make sure to either +1 your exposure or get your meter reading from the grey sky and not the bright white ground.
Send in your pics and let us know what you took them on. They'll all be better than my ones over the jump except perhaps for the snow black hole thing I discovered. Best shot earns my respect and can feel entitled to refer to themselves on TD forever more as Snow Photographer General. Mail 'em over to me over here.
Bloody ace, this one from Fiona. What happened here? Lazy snowman builders? Snowman attack? Head transplant? You tell me.
I'm sure there's some kind of poignant message here in Fiona's second. No idea what it is but are raindrops on the window or tears…
Nice composition here from Sam. Phil the homeless snowman leading the eye into the photo, nice bright jacket and name written on him in urine. Good stuff.
Another from Sam – yeah exposure issue but not nearly as much of a problem as the person who built that thing has, or in fact the poor deformed snowman himself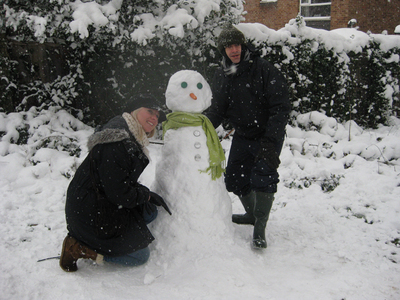 Like me, I don't think Hugh Kleinberg got the exposure right with this one but full marks for the snow man and deer stalker.
Lovely bit of work from Kate Solomon – taken with a Polaroid camera, dropped in the snow and put into digital form by using Photo Booth. Post production master strokes.
Carl Clemnet – lovely, classic snow scene there. Nice and bright and well composed.
One of my rubbish ones
my super cool snow hole
another rubbish one of mine
This last one's Andy's shot – his dog Bruno demonstrating a far better exposure when you meter on something as dark as him.
Related posts: Snow chains for your shoes | petrol powered snowboard
For latest tech stories go to TechDigest.tv