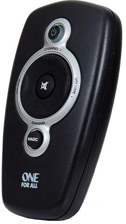 It's competition day here at Tech Digest, with this week's give-away being the One For All Zapper remote control.
They're little remote controls for your TV which let you do your usual thang when watching telly – switching channels, turning on and off, muting and adjusting the volume. As the name suggests, they're compatible with most TVs.
We have three to give away, so look under the jump for more details….