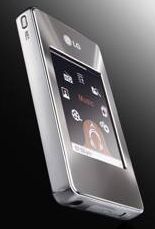 LG has announced the launch of its first touch screen video MP3 player.
The MFFM37 "Touch Me" player features a 2.4 inch LCD touch screen with 320×240 resolution. It comes with up to 4GB of memory and can play back MP3, WMA, and OGG music, and MPEG4 and WMV9 movie files.
LG's Mobile XD Engine improves picture quality by controlling screen brightness, colour and contrast.