Jonathan Weinberg writes…
You can have too much of a good thing, isn't that how the saying goes. Who wants sex, chocolate and alcohol every minute of the day? Eventually you're going to getting a little tired of the same old daily routine.
I speak as a self-confessed Facebook addict when it first launched. I spent ages on there, ensuring I had more friends than everyone else on my friends-list, updating my status every five seconds, adding new pictures and sitting there transfixed by what my increasing social circle was up to. It's like voyerism, only legal, and without the naughty stuff.
Why did it bothered me X was visiting the farm, or Y was updating their profile from their mobile while sitting on the toilet? I'll tell you why, because it was new, it was innovative and it was a distraction from everyday life.
But since Facebook has become my everyday life, my interest has waned. I've not changed my status in nearly a week, last put snaps up before Christmas and my Blackberry battery is staying juiced-up for longer as I neglect to check it while on the move.
So it doesn't surprise me that Facebook's user numbers are falling. So-called "Facebook fatigue" has been highlighted with a five per cent drop from 8.9 million unique visitors to the website in December to 8.5 million last month. But it's still 712 per cent higher than a year ago and nine per cent higher than three months ago….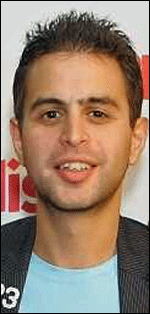 Jonathan Weinberg writes… You don't get anything in life for free. So the saying goes.
And so, I'm not surprised that a website which promised us the world's first legal file-sharing service has had to backtrack on the plans after the record companies said they were not yet supporting it.
Qtrax made a big song and dance about their launch over in Cannes with stars including James Blunt there. They secured quite a bit of coverage in all the national newspapers too in Britain.
But maybe it would have made sense to secure the record firms first, after all, as the gatekeepers of the industry, they are pretty important don't you think? It's like saying you've got a No1 song, without actually having the lyrics written or the musical score penned…