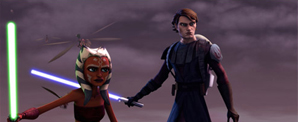 George Lucas has reaffirmed the notion in most Star Wars fanboys' minds that he is disintegrating into a gnarled old man consumed with wreaking havoc on his back catalogue, by announcing the animated Star Wars: The Clone Wars film, out on August 15th.
You heard correctly. It's leading on from where the 2002 movie Attack Of The Clones left off, and before 2005's Revenge Of The Sith.
And is entirely animated.
At least we won't have to put up with Hayden Christensen's questionable acting, I suppose….