Do lots of people really want to set up their own home surveillance systems? Normal people, I mean, who don't live in expensive houses that could be robbed at any minute by a passing burglar.
The makers of the RC Surveillance Cam hope there's a market. Costing £119.95, it consists of a camera, and a handset which you use both to control the cam's pan'n'tilt, but also to watch the live streaming footage on a 2.5-inch screen, and listen through the speakers.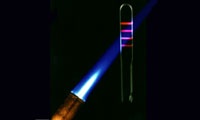 Public surveillance is a live issue at the moment, what with CCTV cameras springing up in British streets faster than you can say 'Run for your tin-foil hats! The government is watching us like a hawk!'.