Listen up musicians. The triangle is no longer the coolest instrument in the world. It's been knocked down to second place by the Reactable, a Spanish-designed piece of technology that lets multiple users create music by moving shapes around an interactive table.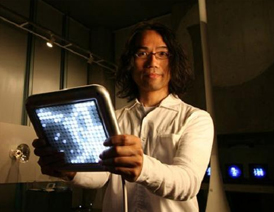 Bless Yamaha, they're really thinking outside the box these days, in between designing glow in the dark iPod-docking electrical motorbikes and now the Tenori-On, a musical sequencer.
From what I can gather, the general gist of the Tenori-On is that it's fairly similar to that reacTable instrument we wrote about recently which Bjork has been using, in that it allows you to create musical loops and melodies….
I found myself fascinated by the Reactable site. Reactable is "a state-of-the-art multi-user electro-acoustic music instrument with a tabletop tangible user interface. Several simultaneous performers share complete control over the instrument by moving physical artefacts on the table surface and…