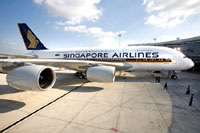 Singapore Airlines pulled off a next-gen aeroplane first yesterday, with the first ever commercial flight of the vast double decker Airbus A380. There wasn't even one fireball over the Indonesia as flight SQ380 successfully made it all the way from Singapore to Sydney in one very large piece.
"The flight was spectacular, just truly awesome," said Thomas Lee, one of the passengers – a man who's so into his planes he was also one of the first passengers on the inaugural 747 flight back in 1970…
They may be known for their garish orange but Stelios seems to fancy a colour change – his budget airline has unveiled a new fuel efficient plane, The Ecojet.
It's not just a normal flyer with better fuel efficiency, this has two open rotor jet engines at the back of the airplane, which, according to the firm, improve the overall performance of the plane. The wings are swept forward to reduce drag and the body is made with lightweight carbon fibre to reduce the overall weight…
A survey by Barclaycard Business suggests that any introduction of in-flight mobile phone use would be unpopular with the majority of business travellers. Over 4,000 businesspeople were questioned, and found that six out of ten would not want such technology…