One interesting system on display at PCBC 2007 is Eaton's Home HeartBeat system. This is a self-installed, expandable system of sensors that allows a house and its utilities to be monitored remotely.
The Base Station controls the whole system, and works with a Home Key that the homeowner keeps with them. Sensors can be used to determine whether doors and windows are open or closed, whether pipes or taps are leaking, and if electrical appliances are on or off.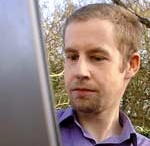 Andy Merrett writes…
Sony has been showing off its latest integrated solutions at PCBC (Pacific Coast Builders Conference) 2007.
It has three updated solutions for ensuring that new houses are totally kitted out with Sony equipment.
Their reasoning is that it's easier and more cost-effective to plan and install a complete audio-visual system when a house is being built, rather than after all the walls are nicely plastered and you're left scratching your head wondering how to keep that pristine look, while trying to separate and hide all that cabling.
Their top-of-the-range NHS-3040 rack system allows for 13 zones of HD video distribution, incorporating a 7.1 surround sound home theatre with LCD touch-panel remote control, a 400-disc DVD/CD changer with management system, an 80GB music server, radio tuner, HD cable/satellite support, three auxiliary inputs, and a Blu-ray player. Each separate zone has in-wall keypads for controlling it all.