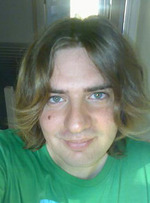 Stuart Dredge writes…
Hurrah for Apple! No, this isn't another paen to the iPhone posted from Steve Jobs' lower colon. I'm just excited about the fact that Apple has thrown its hat into the Web 2.0 bandwagon (gotta love them mixed metaphors) with the launch of My iTunes.
As we explained earlier, My iTunes is a collection of three flash-based widgets that can be embedded into your website, blog or social networking profile. They show your recent iTunes Store purchases, an artist tag cloud (again based on purchases), and music you've reviewed on iTunes.