All Vodafone customers, PAYG or contract, will be able to surf the web from the comfort of their own phones for absolutely zip all day tomorrow.
The one day offer is to celebrate the launch of a new data tariff from the network giant that gives a daily flat rate of 50p so that casual users don't need to worry about clocking up monumental bills when they browse.
Not a ground-breaker of a deal but I'll certainly be ditching my £5/month bolt-on in favour of it.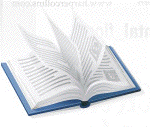 Leading book publisher HarperCollins has announced a dedicated web site to allow mobile phone users to browse excerpts of more than a dozen new book releases.
Despite the title looking like a vain attempt to cash in on the iPhone craze, the opening line of the press release actually states that "The publishing world is hooking up to the iPhone". Really.
Though any mobile browser could theoretically access the site, it does seem as if the service has been specifically designed to match the look and feel of the iPhone. Users can view up to 10 pages of any book's first two chapters, and are able to shrink or enlarge the print size.