Following in the footsteps of the philanphropic work of other tech billionaire Bill Gates, Facebook founder Mark Zuckerberg has revealed that he is to give away over half of his $6.9 billion wealth to charity either before or following his…
Don't we all, mate. Two minutes with a web-based time machine and we'd all be millionaires.
At least Chris Clark had the foresight to register a domain name. He signed up pizza.com – a domain he's just sold this week for a staggering $2.6m. His initial plan, when he registered the name in the dark days of 1994…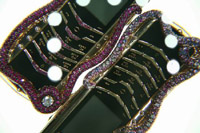 Russia held a millionaire fair recently, where all the recently minted oil executives got to do a nice bit of conspicuous consuming in front of the world's media.
No, we didn't get invited either, what with the show's target audience being "consumers of the high-end luxury segment, VIP's, the political, administrative…