Rumour has it that the long-awaited Mac App Store could be launching as early as December 13th of next week, with Steve Jobs pushing to have it on computers before the lucrative Chrismas rush. Though modelled fairly similarly to the…
The ads seems to add bit more weight to the theory propounded by Apple Insider and others that there will be thinner iMacs, skinnier sleeker Macbooks and cheaper Mac minis.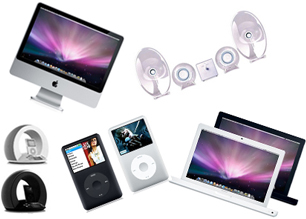 Crazy Steve Jobs has unleashed his CRAZY WAREHOUSE PRICES on the UK market, for today only. And we're all in for a big treat, as not just are the Apple products discounted, but other products too, from Logitech, JBL, Ferguson Hill and even Canon.
Highlights in the sale bonanza include MacBooks for £668 (discounted from £699), iMacs for £768 (down from £799), 80GB…