Our gaming man, Simon Munk, recently checked out Lost Odyssey, which came out a week ago on the Xbox 360. Take a look above for his thoughts on the RPG…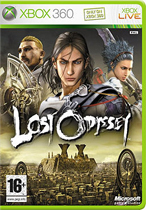 It's been anticipated for quite a while, however as of tomorrow, the UK market will finally get its hands on the Xbox 360 game, Lost Odyssey.
If there's one thing I recommend you do today, is head down to HMV or over to their website, and pre-order like a madman. HMV is offering an amazing deal for those who pre-order the Japanese RPG, with 1000 Microsoft Points to spend on your next Xbox Live Arcade download.
That's a whole £8.50! If you pre-order ten of them at £39.99 each, then sell them all on eBay, you could make a killing, and ensure…