Charlotte, Editor of our blog for extreme-sports, Nollie, has done something I could never do. She dropped her camera deliberately in a lake, simply to test exactly how waterproof the Overboard cases for gadgets really are.
The company has…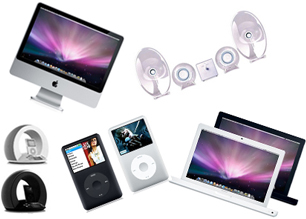 Crazy Steve Jobs has unleashed his CRAZY WAREHOUSE PRICES on the UK market, for today only. And we're all in for a big treat, as not just are the Apple products discounted, but other products too, from Logitech, JBL, Ferguson Hill and even Canon.
Highlights in the sale bonanza include MacBooks for £668 (discounted from £699), iMacs for £768 (down from £799), 80GB…

As everyone and their grandmother can tell you, there's a super-secret Apple product launch happening tonight, and as 'super-secret' implies, no-one really knows what will be announced. Sure, there's rumours circling thar intarwebs faster than it takes a Microsoft fanboy to say "yeh well the Zune 2.0 will be available in pink", but nothing's been set in concrete as yet.
Alex from Shiny Shiny, and yours truly from Tech Digest will be heading over to the BBC studios tonight to watch a live broadcast via satellite of Steve Jobs's conference in California and will be merrily live-blogging the night away. So, keep pressing F5 on our live-blog post here at Tech Digest, as we'll be updating every few minutes.
Want to hear some of those kuuuuraaaazy rumours the Apple kids have been spreading in the last few weeks? Read on below the jump for some of the best….