Tag:
Intimate Controllers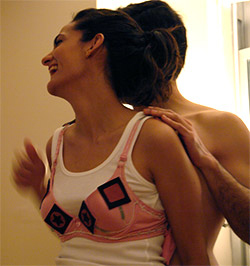 For those that think gaming involves sitting alone on a couch, twiddling your thumbs, think again.
Recently a New York University student, Jennifer Chowdhury, created her thesis 'Intimate Controllers' on the subject of intimate controlling devices, where she invented a form of playing Pong with her boobs whilst her partner played with his bottom. Gaming beginning to sound fun, yet?
According to Wired, she embedded a set of sensors in her bra which controlled the actions of the game, so when her partner touched her left boob, the Pong paddle moved to the left, and the right boob would control the right paddle etc…