JVC has announced its new DE9 series of LCD TVs featuring built-in 160GB hard disc based PVR and Freeview tuners.
Available in 26- and 32-inch screen sizes, these are HD Ready sets with a screen resolution of 1,366 x 768, so won't display full 1080p content without scaling it…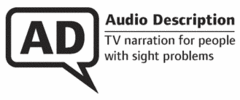 If you've watched any TV over the past few weeks, you've probably already seen the new push for awareness of Audio Description (AD) technology. AD is, effectively, the aural equivalent of subtitles / signing, allowing partially-sighted and blind people to access TV shows through a descriptive commentary.
The UK leads Europe in adoption of AD, with legislation that requires broadcasters to make a certain proportion of their programmes AD-compliant. The BBC must audio describe at least eight per cent of its programmes.
Both Ofcom and Sony believe that the rest of Europe should be catching up, and have called for similar legislation to be imposed that requires broadcasters to invest in the technology.
Humax's family of HD ready IDTVs has grown again with the introduction of three new models in two sizes. The three models are the LGB-19DTT, LGB-19DZT and LGB-22DYT, and are being marketed as second TVs for bedroom or kitchen. The…