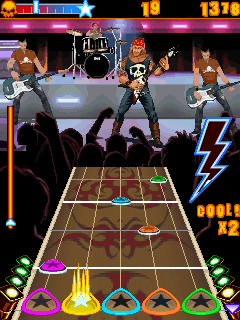 Guitar Hero! Rawk! You should see my hot riffs. But surely it's one console game that'll never get converted to run on mobile phones…
But no. Mobile games publisher Gameloft hasn't got the official Guitar Hero licence, but it has released a mobile game called Guitar Legend that uses the same core gameplay. So it's all about pressing buttons according to notes travelling towards you on a guitar neck.
Did Kurt Cobain play computer games? History remains strangely silent on the issue. It's hard to say whether he'd approve of Nirvana tracks being licensed out for use in musical rhythm games then. Still, that's what's happened, with news of two separate games that'll allow fans to play along with Nirvana classics.