Glu Mobile's ongoing partnership with Sega looks set to bring a huge drawcard to the mobile gaming platform, with the 'ancient' 1993 Virtua Fighter getting some spiffy new graphics for the upcoming Java port.
It's due to hit Europe in June, according to Pocket Gamer. Sadly, I don't think it'll quite compare to the Sega Saturn version, but at least it'll be fun to walk down memory lane with Akira Yuki and Pai Chan….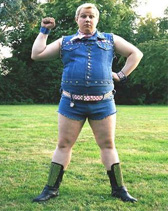 An official Little Britain mobile game? Champagne! Champagne for everyone, as Bubbles would say.
Glu Mobile will be developing the game for handsets, which will consist of four mini-games, using the voices of Matt Lucas, David Walliams and Tom Baker for all the characters from the show. It'll come bundled…
One of the hot stories in mobile games at 3GSM was the public unveiling of Transformers, the official game of the upcoming movie. If you're yet to be convinced by the joys of playing games on your phone, how about…