Susi and Alex demonstrate the user and eco friendliness of this "Freeview Playback" certified device with a 250GB hard drive.
TVonics DVR-250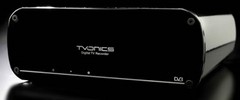 Last year we reported on the (slightly more) eco-friendly TVonics DVR-150 PVR, and now the company has upgraded the specifications and released their DVR-FP250 Freeview PVR.
There's a bigger hard drive — up to 250GB from 150GB — plus all the usual functionality of both Freeview, and a PVR, bundled in one box. It comes with two Freeview tuners.
The main selling point, then, is not so much the functionality which you'd find on any self-respecting PVR, but the fact that it's using significantly less power to achieve the same results.