Those Nokia handsets that run on the S60 OS can do anything, I'm now convinced.
The latest addition to the 'but wait, there's more!' list is the rock'n'roll drum machine freeware application BeatEd, which was created by a musician so as he could play his guitar with a backing track on his mobile.
The app has 16 different drum tracks, plus 16-channel….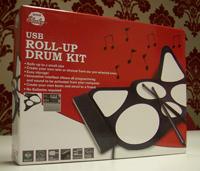 Calling all drummers! Calling all drummers!
Fancy beating your drums via USB? Yes? Thankfully Brando and Tech Digest are here to save the day, giving you the opportunity to enter a competition to win this brilliant USB roll-up drum kit, which retails for $42 normally. Yes, I really did say USB roll-up drum kit.
You have until 6PM Thursday 6th December to enter, so take a look under the jump for how all British residents can win…