I've written about the launch of iRobot's ConnectR robot already, but the company has released several photos showing just how the bot fits into your lives. Here goes…
The "Daddy might be holed up in another late night meeting with his secretary, but he can still log in to read you a bedtime story, kids" shot.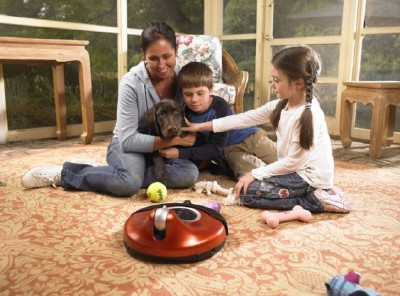 Having unveiled the Looj gutter-cleaning robot earlier today, iRobot has now shown off another new bot, the ConnectR. It's a 'virtual communication and interaction' robot designed for families.
Basically, it hooks up to your home Wi-Fi network, and lets you dial in remotely to have videochats and VoIP calls with people in the house (or pets, weirdly – if your dog doesn't mind woofing into a communication robot).