It's been a busy few weeks in the world of iPad music. First Icelandic pixie-meets-whale-song-songstress extraordinaire Bjork revealed details of a her new iPad-based album Biophelia, and now The Polyphonic Spree are following suit with an iPad app release…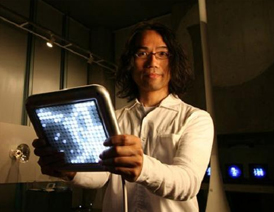 Bless Yamaha, they're really thinking outside the box these days, in between designing glow in the dark iPod-docking electrical motorbikes and now the Tenori-On, a musical sequencer.
From what I can gather, the general gist of the Tenori-On is that it's fairly similar to that reacTable instrument we wrote about recently which Bjork has been using, in that it allows you to create musical loops and melodies….

– A church in Florida is boosting numbers with free iTunes giveaways (Engadget)
– The Japanese government hopes to replace the internet by 2020 (Slashdot)…