Netbook fan? Me too! That's why I was dead excited to try out the latest Eee, and you know what? It's a bit of a monster. Montrously powerful, by netbook standards, and with a montrous battery life.
Unfortunately it's also monstrously heavy, weighing in at 1.4kg. I suppose you have to compromise somewhere, but for £329, you can't complain too much. Watch the video above for my full thoughts.
Great news for those who've been holding out on buying a sub-notebook until the Eee 901 and 1000 launch – they've just been given UK release dates of the 1st of July.
With 8.9-inch and 10-inch screens between them, the main advantage with these two models is that they're running on 1.6GHz Intel Atom processors, making for a better computing experience. They'll run quietly, and be more energy-efficient. Better battery life is of course another benefit, particularly…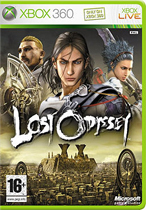 It's been anticipated for quite a while, however as of tomorrow, the UK market will finally get its hands on the Xbox 360 game, Lost Odyssey.
If there's one thing I recommend you do today, is head down to HMV or over to their website, and pre-order like a madman. HMV is offering an amazing deal for those who pre-order the Japanese RPG, with 1000 Microsoft Points to spend on your next Xbox Live Arcade download.
That's a whole £8.50! If you pre-order ten of them at £39.99 each, then sell them all on eBay, you could make a killing, and ensure…