Gosh, did you get snow last night? We did. A veritable blizzard of the stuff. In London, too – a "heat island". It got me thinking – we don't get a lot of winter gadgets. Tonnes of summer ones, tonnes of Christmas ones, but no winter gadgets.
I sent the Tech Digest team hunting far and wide for the gadgets most useful when the nights draw in, but Dan got lost in the process, and has somehow ended up in the southern hemisphere, so I'm afraid there's no gadget from him…
Unless you're in the highlands of Scotland, our British winters are rubbish enough that this low-tech gadget really won't be much use. However, if you're anywhere that enjoys deep, crisp, even snow, these Sno-Baller "tongs" could be just what you need.
It will produce perfectly spherical snowballs, great for lobbing at your mates, though it would be fantastic if you could also use them as a catapult.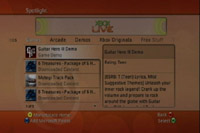 Microsoft's latest dashboard update for Xbox 360 adds the Holy Grail of file-sharers – proper DivX and Xvid compatibility, thanks to support for the full MPEG-4 spec.
This should turn Xbox 360 into the finest streaming media player…