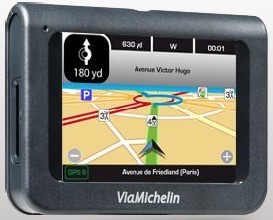 ViaMichelin has unveiled its new X960 and X970T personal satellite navigation systems. They're compact devices, with the X960 weighing in at 136g.
As well as offering simple directions, they can also be loaded up with downloadable POI (Point of Interest) packs which can guide the user around interesting sites in the locality.
In addition, the X970T features free real time traffic information and a Bluetooth hands free function allowing incoming phone calls to be answered by touching the screen.