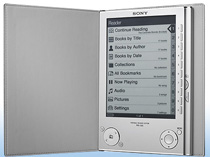 Manga and other books may be coming to the iPhone via downloadable services from network providers, but for those who don't plan on forking out over £1,000 for one of Jobs's little gizmos, Sony may just have the answer you're looking for.
Sony first launched their Reader Digital Book a year ago this month, and are following it up with a second-gen version, the PRS-505, which will be on sale later this month. Costing $300 from Borders stores and Sony's website, it will be available in silver and dark blue, able to store up to 160…
Cosmopolitan book/cafe chain Borders has announced plans to send sample chapters of new releases to customers' mobiles, to get literary types into a HOT FRENZY before books are released.