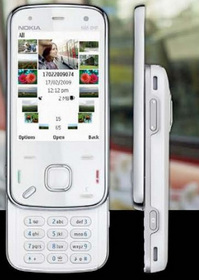 Today's impenetrable wall of mobile phone news continues, with this - the arrival of proper facts regarding Nokia's Symbian S60-powered N86.
The slidey phone is Nokia's entry in the GREAT PHONE CAMERA MEGAPIXEL WAR, thanks to it coming with an 8megapixel Carl Zeiss camera round the back, with auto-focus and support for recording MP4 video at a maximum resolution of 640 x 480.
On the phone side of things, it's packed with 8GB of memory, obviously plays MP3s, WMVs and H.264 encodes, comes with a standard 3.5mm headphone jack EMPOWERING you to use whatever headphones you damn well like, plus it has a TV-out and assisted GPS service. The latter will be slightly hobbled by making you use Nokia Maps, but still. Nice.
It'll also do the internet, with internal wi-fi support for local browsing in the home - and everything will be just about readable thanks to the phone's 2.6" OLED screen. It is, to be fair, looking a bit tasty.
Nokia's spec sheet says the N86 be out in Q2 of 2009. That's April, May or June, in layman's terms.
(Via Epulp)
Like, TOTALLY.
Microsoft's Chris Lewis has come out, once again, to claim that Microsoft's Xbox 360 is ahead of PlayStation3 when it comes to European sales. He spelled it out very clearly. He was extremely matter of fact about it. As far as he is concerned, it's true. Here's how he put it.
"If you look right across my area of responsibility, every data point that I've got, which I trust - and data points we've always used - put us approximately 1 million units ahead in the aggregate."
Chris is talking about the EMEA region - Europe, the Middle East and Africa. When Sony says it's ahead, it tends to use global data or PAL territories numbers, which makes a larger footprint and skews the data in its favour. It's all very technical. And a bit childish.
Especially as Nintendo's looking down at the pair of them, laughing as they SQUABBLE OVER CRUSTS.
(Via GI.biz)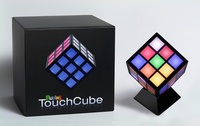 Depending on your viewpoint and cynicism levels today, the Rubik's TouchCube is either an extremely cool update of the 1970s puzzle world-beater, or a cynical attempt to cash-in on today's touch screen madness.
Frankly, we're prepared to confound your expectations by going for option #1 - it's a very cool little toy. The touchable Rubik update not only LIGHTS UP for your amusement, it also MAKES SOUNDS - sampled clunks and clicks, similar to those made by furious boffins racing each other to complete the thing the quickest.
A motion-detecting accelerometer knows when you rotate it, with the touch screen illuminating the LEDs beneath when you swipe your finger across it to make a line. It even comes with built-in memory, so you can "save" your current progress to resume later, if you've been stuck for three hours already.
And if/when you get angry and frustrated and want to give up, because you're not a precocious child-genius, a "solver" application will show you how it's done.
(Via Techno Source)
The big selling point about the E55 and E75 is, according to Nokia, that both phones come pre-installed with the company's new email front end and Nokia Messaging. Both applications allow business people to do business better and quicker.
That deal will be clinched, thanks to the efficient E75!
Nokia tells us the E75 is an upgrade of the (spirit of the) famed Nokia 9300 Communicator, keeping its slide-out QWERTY keyboard and focus on email and messaging. The new email client supports HTML mails, better sorting options and expandable views, as if the lack of that has previously been a deal-breaker.
The E55 is, confusingly, an update of the not-particularly-proud E71 line, with Nokia continuing to make a token effort to compete in the Blackberry universe by providing a mini QWERTY keyboard on the base of the handset.
Both mobiles come with Nokia Maps and assisted GPS, with a three-month free trial of turn-by-turn GPS navigation for helping you get to that important business meeting. The E55 will be out in March. The E75 has a more vague "second quarter" release window.
That photo up there is the E55, by the way. If you want to see the dull face of the E75, click here.
(Via Nokia)
You're NOTHING in the tech world without your own, personalised, branded store through which you sell things to children without troublesome "retail" taking a slice of the cash.
That's the realisation that has dawned within the corporate mind of Nokia, which has today announced its Ovi Store - an application based around "connecting content providers with consumers," which, we think, means an easier way to flog Rihanna and Beyonce ring tones to the youth demographic.
You will be getting "applications, games and videos, widgets, podcasts, location-based applications and personalisation content for Nokia Series 40 and S60 devices" and developers will be able to start populating the service from March - with Nokia clearly hoping for something rivalling Apple's App Store in terms of depth of content and cash-raking power at the end of it all.
The required app to run the Ovi Store will come pre-installed on Nokia's near-mythical N97, which will launch in June, with the store front app appearing for installation on most Series 40 and S60 mobiles when the Ovi Store goes live in May.
(Via Nokia)
The Lian-Li Xbox 360 PC case mods have been around for a while. The idea is you stick your Xbox 360's internal bits into one, preying you don't break any of it in the process, then relax - safe in the knowledge that your Xbox 360's insides have more room to breathe. And are less likely to overheat and break.
If you're not keen on doing it yourself, perhaps because you don't own the right kind of screwdriver and can't even see any damn screws on your Xbox 360 anyway, UK-based supplier QuietXbox.com will do all the hard work for you.
The Lian-Li case comes with silicone feet, anti-vibration mounts and lumps of acoustic padding to help reduce noise caused by the internal fans and whirring of the DVD drive, making the machine quite a bit quieter in operation as well as cool on the inside.
THE BAD NEWS: An Arcade Xbox 360, pre-fitted into a Lian-Li cooling case, will set you back £350 - quite a bit more than the standard UK Xbox 360 Arcade RRP of £129. Premiums and Elites are also available, although, at £450, we can't see them shifting too many Elites.
We can't, to be honest, see them even selling one.
(Via TechRadar)
If you happen to inhabit the same deadly underground hacking world (forum) as the creator of the "Conficker" virus that's been wreaking havoc on PCs since last October and even left France vulnerable to aerial invasion, you might be in luck.
Microsoft has put up a $250,000 reward for information leading the the capture of the creator of the worm/virus, hoping that some of the man's internet friends might be a bit keen on grassing him up and bringing him to justice in return for more than enough money to buy a gaming rig and a Vaio P for on-the-go.
"People who write this malware have to be held accountable," George Stathakopulos from Microsoft's Trustworthy Computing Group said, rather worryingly, adding that "whoever wrote this caused significant pain to our customers and we are sending a message that we will do everything we can to help with your arrest."
Arrest. Then trial. Then EXECUTION by lethal injection.
Meanwhile, on the side of RIGHT and JUST and HONOURABLE, Microsoft has revealed it's planning a move into the retail world - and will be opening a worldwide chain of shops to flog PCs and software.
We cannot wait to go inside a Microsoft Store. It'll be like an Apple store, only with geekier, more dishevelled staff and much more swearing at crashed display machines.
(Via BBC)
Despite the news all being about the end of the universe and how you're best off mashing up all your remaining money into papier-mache logs to burn to keep warm, one statistic on the UK economic trends chart is pointing UP - sales of HD LCD and plasmas TVs are still rocketing.
Stats compiled by GFK for the BBC show that sales of fancy flat high-def TVs increased by nearly 11% in the last three months of 2008 compared to the same period of 2007, presumably because no one's got jobs any more, so sitting around in the house watching TV is now the main occupation of the UK population. And if you're going to do it, you might as well do it properly with a nice new 52" Samsung.
There are some other interesting winners in the economic war zone, too - news and business magazines have seen their sales go UP over the last six months, with mags like The Economist, Moneyweek and The Spectator reporting increases - either because we're all considering changing careers, starting a business with the redundancy cheque, or just want some glossy photos of Brokers With Hands on Their Faces to cut out and keep.
Entertainment and home makeover magazine sales have plummeted, though. The likes of Beautiful Homes and BBC Good Homes have fallen by 14% and 23% respectively, matching the death of the buy-to-let market perfectly. We're also not buying many music magazines - Q's lost 25% year-on-year. And Max Power has seen an even bigger plummet.
We are all, basically, sitting at home in silence, staring blankly at a TV as our houses, cars and lives deteriorate. Happy Christmas, one and all!