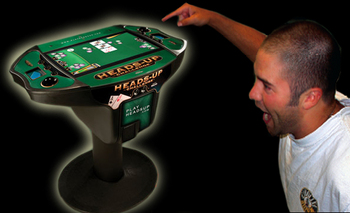 Alright lads, listen up, yeah? Next time yah dahn the boozer, check aht the poker machine what's ready to swallah all ya nuggets, yeah.. Cos, it's diamond, innit.
Right. Enough of talking like I'm in a film by Guy Ritchie. It hurts my head. What i'm trying to say is: If you happen to find yourself having a drink in your local public house, then you should probably look out for the new machine by CosmicVideo Games - the 'Heads-Up Challenge' poker table.
That is, of course, if you like that sort of thing.
Continue reading