Share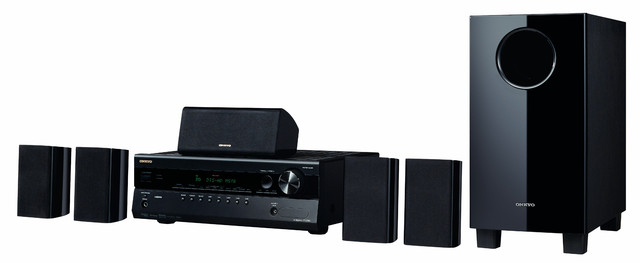 Name: HT-S3305 (Onkyo)
Type: 5.1 Home cinema package including 5 satellite speakers, passive subwoofer and HT-R380 A/V receiver
Specs: Click here for full specs
Price: £299.95 (Richer Sounds)
Onkyo's range of one-box home cinema kits have always paired good value for money with solid audio performance, often featuring the kind of functionality you'd only expect to find with much pricier gear. The Onkyo HT-S3305 home cinema set is no exception. Bundling in an A/V receiver, 5 satellite speakers and a subwoofer, and priced at just shy of £300, it'd give packages twice the price a run for their money.
First up, the receiver. It's a HT-R380, measuring in at a fairly sizeable 435 x 150 x 330 mm, so make sure you've checked you've room for it in your TV cabinet set-up or similar before you grab it. It's cased in a no-nonsense metal chassis with a black finish and features a clearly defined display for tweaking and calibrating the speakers, with a chunky volume dial on the front as well as a range of buttons for switching between audio sources and listening modes.
Connectivity options go beyond what you'd expect within this price bracket. Three HDMI inputs can be routed to one output, there are two optical-in ports and one coaxial-in, composite and analogue support as well as a headphone socket, Aux line-in, room for an FM antenna and Onkyo's Universal port for connecting a sold-separately iPod dock and dasiy-chainable DAB+ module called the UP-DT1.
In terms of audio processing, the HT-R380 can handle bitstream formats that are once again usually the reserve of far more expensive receivers. There's support here for Dolby True HD and DTS HD Master Audio, as well as multi-channel PCM sources and 2 channel expansion using Dolby Pro Logic II. Add to that a 32 bit-processing chip and Burr-Brown 192/24 DACs across all channels and you'll get some seriously impressive, jitter-free audio reproduction from this receiver.
It's also worth noting that the HT-S3305 is compatible with HDMI version 1.4a, the latest HDMI build that is fully compatible with 3D video and audio sources. Unfortunately I was unable to test the kit with a 3D source (3D TVs are just a little bit above my pay-bracket I'm afraid). While I can't speculate on the HT-S3305's performance here, at least Onkyo have made provisions for making it a long-term investment in what seems destined to become the future of home entertainment.
Next up are the 5 satellite speakers and passive subwoofer. The satellites are 8cm cone numbers with a max input power of 120 W, while the sub has a 16cm cone, bass reflex cabinet and a maximum input power of 130 W. They're well balanced (though the rear surround speakers needed a bit of a volume boost when the master volume was down low) and were able to draw out minute detail, especially from the high-definition lossless sources. Blu-ray playback of the Schwarzenegger classic "Total Recall" produced an explosive and resonant response from the subwoofer, while the iconic x-ray glass smashing scene had the sound of crisp tinkles of debris moving convincingly from the front to rear speakers.
The speakers have a black lacquered finish, but felt a little lightweight considering the clarity of sound that they produce. The subwoofer is a little boxy, with the black lacquer finish only on the front side, but has a solid wooden build overall. Keep in mind too that the HT-R380 receiver can be expanded to accommodate a 7.1 set-up too should you later want to boost your system.
Onkyo have also compiled a handful of DSP listening modes for getting the most out of music and game sources. Orchestra, unplugged and studio-mix settings highlight and isolate important frequencies for their respective musical situations, while there are settings optimised for console games in the RPG, action, sports and "Guitar Hero" rhythm genres. The game modes in particular were impressive, especially for picking out dialogue in intense action scenes, while the music game mode, which threw crowd cheers around the room, gave the impression that you were rocking out at Wembley.
Onkyo have done a good job of making the set-up process as painless as possible too. Each 5.1 speaker is discretely colour coded so that there are unlikely to be any mix-ups when connecting to the HT-R380 receiver, while each input is clearly labelled, with specially assigned HDMI slots for TV, Blu-ray/DVD and game console signals that correspond to dedicated buttons on the supplied remote control. It's pretty much fool-proof, and the inclusion of a clean on-screen menu overlay for HDMI sources makes fine-tuning the set-up as simple as it can be. The transparent on-screen menu has clear white fonts that are easy to read and navigate, and while it's a no-frills look, it gets the job done, fitting the myriad options into a simple system that doesn't require multiple levels of menu trawling.
For what you get at this price it's hard to find fault with the Onkyo HT-S3305 package. You could arguably complain that the subwoofer is a passive rather than active unit, but this wont be an issue for anyone other than those looking to upgrade from the bundled speakers in the future. Unless you live in a cavernous mansion the provided speakers and subwoofer will be more than capable of delivering a punchy and impressive sound anyway. I did also occasionally notice some garbled audio very low in the mix when the receiver was processing 5.1 from a 2.0 source, though never anything jarring enough to really dent my enjoyment of the system, and was likely a Dolby processing artefact beyond Onkyo's control.
The HT-R380 receiver bears a striking similarity to the TX-SR308 which is 300 quid on its own, which should give some indication towards the sort of bargain you're getting here. At under £300 the Onkyo HT-S3305 home cinema package is an absolute steal, massively improving on the audio capabilities of pretty much any flatscreen TV on the market without breaking the bank.
4/5