Share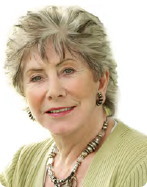 Older readers probably remember her as the legendary Blue Peter presenter, alongside Peter Purves and John Noakes, but now she's moved from sticky back plastic and old bottle tops to market her own range of computers for the over 50s.
Available from her money-saving website, Discount Age, which she founded a year ago, the SimplicITy computers (get it) have been produced to help mature and technophobic computer users in the UK.
With no start up screen or log in requirements SimplicITy takes the user to a menu screen with just six options to choose from: email, browse the web, chat, about me, documents and video tutorials, presented by Val herself. Options are laid out clearly with big, onscreen buttons with large text.
Two models are available: a desktop with a single core processor for £299 including VAT and a mini desktop with a dual core processor costing £389. A complete package with screen, keyboard, mouse and stereo speakers costs £435 and £525 respectively. Each computer includes simple set-up instructions and a manual reproducing the video tutorials for those who prefer to read. Additionally, buyers will receive a free membership of Val's website, Discount Age , which offers a wide range of discounts off various products.
http://www.discount-age.co.uk/simplicity_computers/
CLICK ON IMAGE BELOW TO SEE MORE PICTURES AND SCREENGRABS