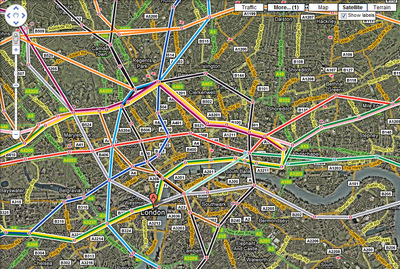 Google Maps launched its new 'Transit' section of Google Maps this morning, which focuses on public transport. Wonderfully, included in the update is a tube map that you can turn on and off on the display - immensely useful for planning ya route across the capital.
Be aware though - because it's tied to real geographical locations, it might be a bit confusing, and not as intuitive as using the regular tube map. On the other hand, you might find out something useful, like how close Lancaster Gate (on the Central Line) is to Paddington, or Canon Street to Bank, saving you some trouble, and going miles out of your way to change tubes.
If you've got a local metro/tube/underground system of some sort, is it shown on Google's new layer? Let us know in the comments. Now... if only Google would release street view in the UK...
Google Maps UK (via TechCrunch)
Related posts: Google Earth maps Ancient Rome, hope to catch up to modern Rome within the next 2000 years | Google goes mega-high-resolution on Google Maps with the GeoEye-1 satellite
Think you know Assassin's Creed ? Prove it! Take our Assassin's Creed travel quiz
Check out the best iPhone 5 accessories here