GlucoPhone: a mobile with built-in blood glucose meter for people with diabetes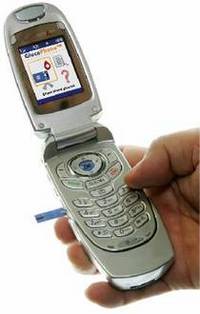 HealthPia has had its GlucoPhone handset approved by the US Food and Drug Administration (FDA), clearing the way for it to go on sale.
It's a nifty idea too: a mobile phone with an integrated blood glucose meter, which lets people with diabetes test their blood and send the results to an online database for analysis. The first phone to ship with the technology is an LG5200 handset in the US, which has had its back swapped for the unit with the glucose meter in.
Apparently HealthPia plans to develop models for handsets like the Motorola RAZR and even the iPhone in the future. A niche market? According to the World Health Organisation, in 2006 there were more than 171 million people with diabetes of one form or another across the world...
GlucoPhone website (via Diabetes Mine)
Related posts
t+ diabetes system - control diabetes with your mobile phone
Came straight to this page? Visit www.TechDigest.tv for all the latest news.